2022 Acura MDX in Edmonton, AB

2022 Acura MDX - Online Inventory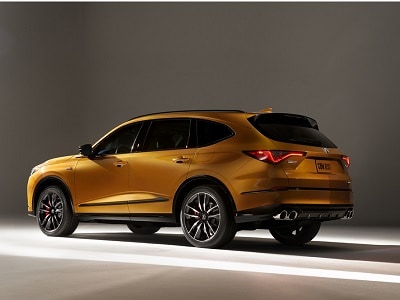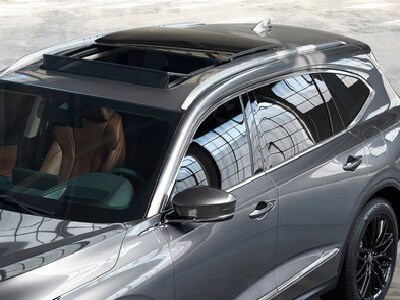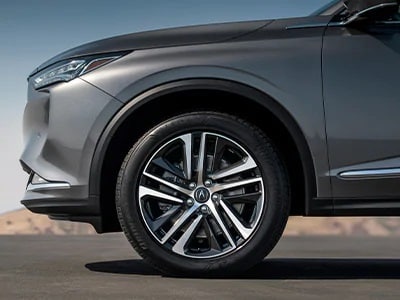 2022 Acura MDX at West Side Acura
The Acura MDX was one of the pioneers of the three-row luxury SUV segment. Automotive consumers from St. Albert, Sherwood Park, Beaumont, Leduc, Spruce Grove, Devon, Stony Plain, Fort Saskatchewan and surrounding areas of Alberta have appreciated the comfort, convenience, and drivability the MDX offers. So when Acura announced the launch of an all-new model for 2022, it wasn't a surprise that consumers are looking forward to a vehicle that many have come to love. The mid-size SUV segment has seen a rise in popularity as consumers slowly move away from minivans and gravitate towards an SUV alternative. At West Side Acura, we are excited for the arrival of the new 2022 Acura MDX and can't wait to offer it to our clientele. It promises to take the luxury SUV segment by storm with its next-generation technology and driving dynamics. Until then our new vehicle inventory features fantastic Acura's that offer an abundance of technology and driver-assistance features. So don't hesitate to browse and let us know if you have any questions.
2022 Acura MDX Interior
The 2022 MDX has taken its interior cabin to a whole other level. The amount of premium quality materials has increased while still keeping the ergonomic interior setup consistent. The front dash is redesigned around the driver to provide more of a cockpit-style feeling. At the same time, craftsmanship has taken luxury to all-new heights. Interior occupants can find open-pore wood, aluminum accents, and full-grain Milano leather available to every single seat. You are guaranteed a high-end experience with a digital start-up display, flat-bottom sport steering wheel, and available massage seats. An all-new wide panoramic roof allows more light in, while creating an open atmosphere feel. There is still so much more information to be released regarding the 2022 Acura MDX, so don't hesitate to contact us to learn the latest. Learn more about 2022 Acura MDX  Interior Features.
Related Articles
Digital Gauge Cluster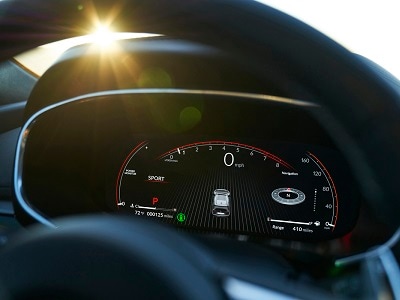 New Precision Cockpit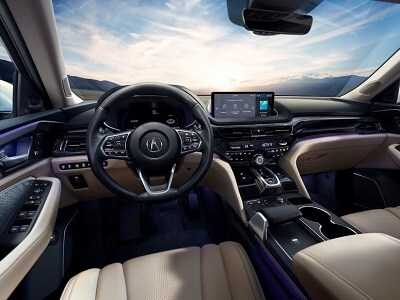 Wide Panoramic Roof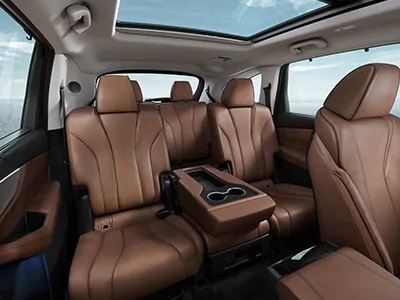 MDX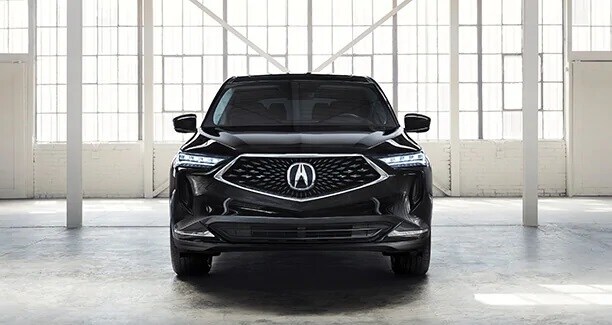 The 2022 Acura MDX not only receives a full redesign ascetically; however, you can find an abundance of changes under the skin. Features like an all-new double-wishbone suspension that will surely provide a more exhilarating ride. Add on Apple CarPlay, Android Auto, Alexa Built-in, and a Wi-Fi hot spot capability; the new MDX is sure to keep you connected to the world around you. With the addition of an available turbocharged V-6, you'll always be looking in your rearview mirror
Technology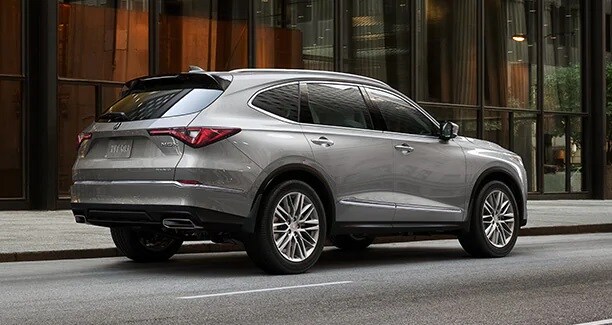 The 2022 Acura MDX features an all-new Technology Package that not only provides a slew of technology features but luxury add-ons as well. Milano leather will be soft to the touch, while an ELS Studio Premium Audio System will give you an unmatched audio experience. Acura's Navigation System with a 3D view, a hands-free access power liftgate, parking sensors and power-folding mirrors will heighten your automotive experience.
A-Spec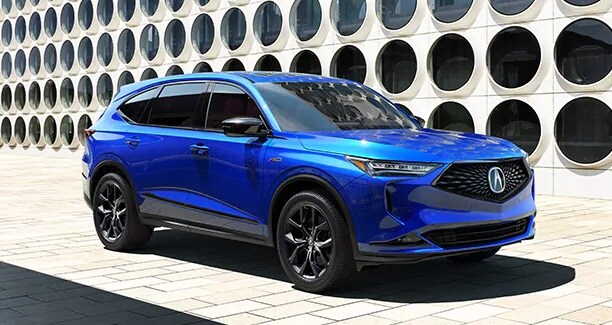 Like its smaller siblings, the addition of the A-Spec package offers automotive consumers the apex of performance-oriented design. It features 20-inch Shark Gray Wheels, premium Milano leather, a flat-bottom steering wheel with paddle shifters, and so much more. Except the best because that's what Acura consumers expect.
Platinum Elite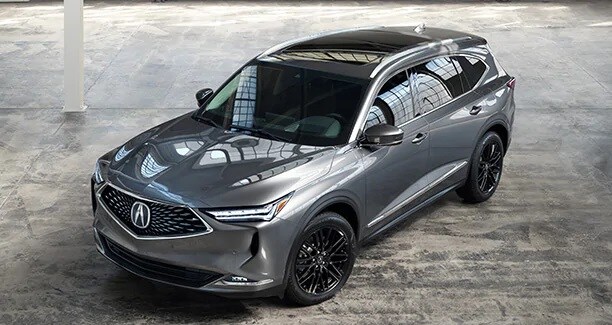 If you're in the market for the ultimate driving experience, you've come to the right place. The 2022 Acura MDX with the Platinum Elite package features a surround-view camera, 16-way power front seats, open-pre wood trim, heads-up display and massage seats. Everything you've wanted is here, so what are you waiting for?
2022 Acura MDX Exterior
The 2022 Acura MDX has been fully redesigned to offer automotive consumers Acura's new daring and beautiful design language. The new MDX is a modern and muscular iteration of the next generation of Acura. It embodies what Acura stands for; the pursuit of a luxury and adrenaline-inducing automotive experience. For 2022 Acura has designed a longer chassis and a tapered cabin to create a more robust appearance while increasing interior space. The beltline has been completely revolutionized and showcases how a large SUV should look. It draws the attention of onlookers to the rear Chicane LED taillights that offer a premium and striking look. Coupled with an ultra-rigid body, all-new double-wishbone front suspension, beautiful 20-inch aluminum-alloy wheels, and a front fascia that looks like it can cut through anything. The 2020 Acura MDX is equipped with all the premium exterior features that consumers will appreciate.
2022 Acura MDX Performance & Technology
The rebirth of the Acura MDX was sure to yield a new slew of performance and technology options that not only meet but exceed automotive consumer expectations. The MDX has long been known for its thrilling performance and futuristic technology, so the 2022 MDX does not disappoint. An updated 290 horsepower 3.5-litre V-6 engine provides the grunt that propels the MDX, and for 2022 the sporty Type S will be powered by a turbocharged 3.0-litre V6 that produces 355 horsepower and 354 lb-ft. of torque. Both of these engines will be paired with a new 10-speed automatic that is sure to offer quick, crisp gear shifts and exceptional economy. The 2022 Acura MDX will come standard with front-wheel drive and optional all-wheel drive depending on the consumer's preferences. The Type S will feature Acura's advanced Super Handling All-Wheel Drive and torque vectoring as standard equipment.
The redesigned 2020 Acura MDX will feature a slew of new technology features that are sure to keep you connected and safe. A 12.3-inch colour centre display with a unique True Touchpad interface that brings together all of your driving information. With the addition of Alexa and the return of AcuraLink, Android Auto, and Apple CarPlay, your 2022 Acura MDX will truly be an extension of you. The MDX will also offer a wireless charging pad and an optional ELS Studio 3D Premium Audio System with 16 speakers that will immerse you in a true audio experience. The driver will also have a chance to utilize a hands-free access power liftgate, power-folding side mirrors, parking sensors, and Acura Navigation System with 3D view.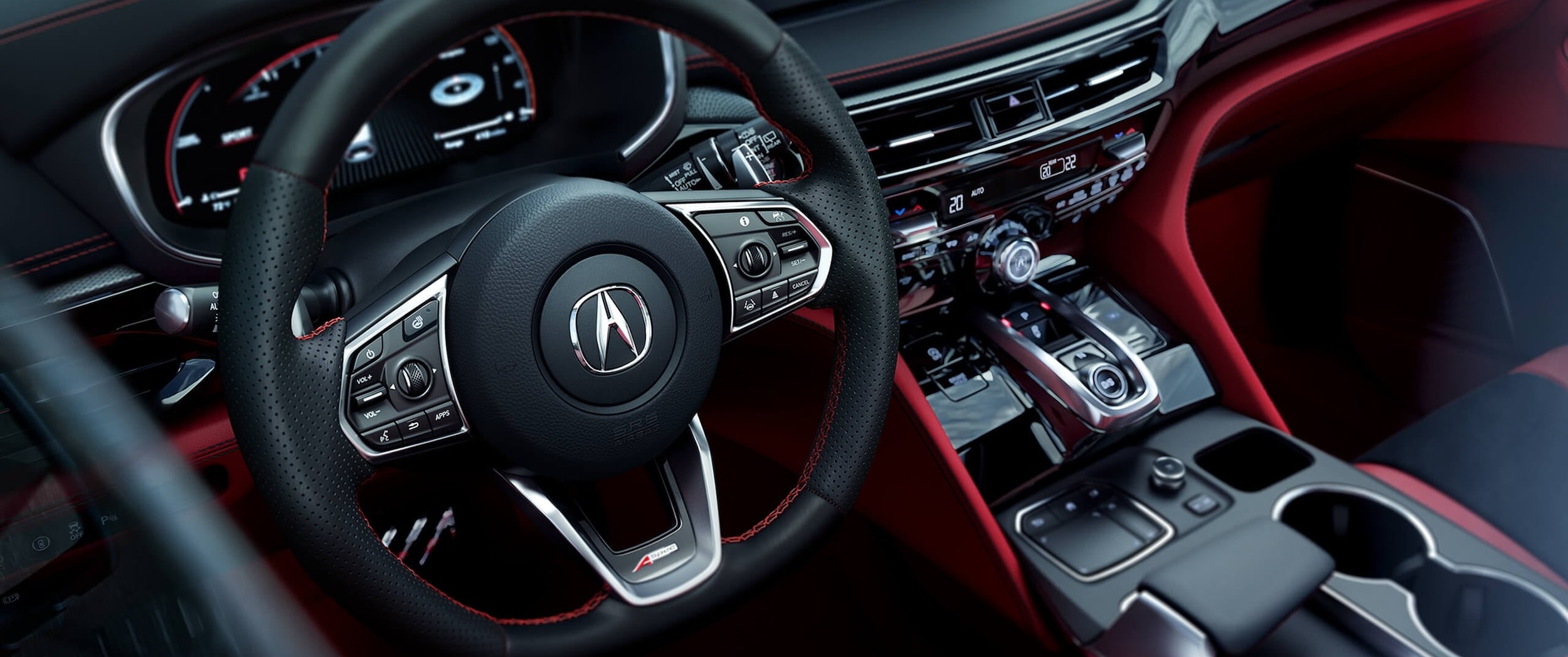 The introduction of the all-new 2022 Acura MDX has sent shockwaves through the industry. The leader of the luxury seven-passenger segment has arrived. This MDX is the most ambitious offering Acura has ever produced; with a history of performance-focused and technologically-advanced vehicles, the 2022 MDX is the evolution of Acura. Residents of St. Albert, Sherwood Park, Beaumont, Leduc, Spruce Grove, Devon, Stony Plain, Fort Saskatchewan and surrounding areas of Alberta have been eagerly waiting for its arrival; rejoice, the wait is over. At Westside Acura we have a great selection of 2022 Acura MDX in stock, please browse our inventory online or in-store and find out why the all-new MDX retains its crown. One unique feature for this year is the introduction of advanced drive modes; these five unique modes will always have you prepared for what lies ahead.
Five Driving Modes
The 2022 Acura MDX features five drive modes that help you make the vehicle your own. You can choose between throttle response, steering, shifting, engine sound settings, while you get ready for the ultimate driving experience. The following modes include
Snow
Comfort
Normal
Sport
Individual

Next-Generation Safety
The 2022 Acura MDX features next-generation safety features that are sure to keep you, your passengers, other vehicles, and pedestrians safe. When it comes to Acura's focus on safety, no detail is left behind. The following safety features add another layer to the MDX and its pursuit of innovation and engineering.
Low-Speed Braking
Aside from the many high-speed driver-assist technologies, the MDX also features low-speed braking. A system that utilizes sonar-based technology designed to help reduce the likelihood of either a front-end or rear-end collision. It helps detect objects that you may not see.
Advanced Protection
Acura understands that the most important assets are those that are riding along with you. Many loyal clientele will be familiar with Acura's Advanced Compatibility Engineering (ACE) body structure. For 2022 Acura has taken it another step further with a new platform and body structure that offers next-generation safety and advanced levels of occupant protection.
Your Number One Source
At Westside Acura, we are your number one source of Acura vehicles and service. We invite you to visit our state-of-the-art dealership and find out why so many automotive consumers keep coming back. If you have any questions please don't hesitate to contact us for more information.
Contact Us
Make an Inquiry