2023 Acura MDX vs 2023 Honda Pilot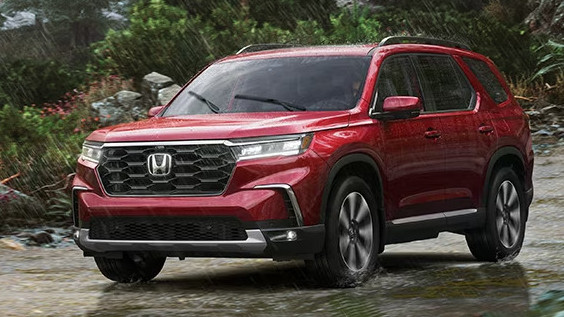 | | | |
| --- | --- | --- |
| 2023 Acura MDX | | 2023 Honda Pilot |
| $69,028 | MSRP* | $52,783 |
| 3.5 | Engine Litres | 3.5 |
| V6 | Cylinder Configuration | V6 |
| 290 | Horsepower | 285 |
| 267 lb-ft | Torque | 262 lb-ft |
| 12.6 L/100 km | Fuel Economy City | 12.4 L/100 km |
| 9.4 L/100 km | Fuel Economy Highway | 9.3 L/100 km |
| 9.4 - 12.6 L/100 km | Fuel Economy Combined | 9.3 - 12.4 L/100 km |
| 5039 | Exterior Length mm | 5077 |
| 1999 | Exterior body width mm | 2090 |
| NA | Front track mm | NA |
| NA | Rear track mm | NA |
| 2690 | Interior cargo volume litres | 3166 |
| 4571 | Maximum interior cargo volume litres | 5215 |
| 1057 | Front legroom mm | 1041 |
| 978 | Rear legroom mm | 1036 |
| 978 | Front headroom mm | 1029 |
| 968 | Rear headroom mm | 1021 |
| NA | Front hip room mm | NA |
| NA | Rear hip room mm | NA |
| 1572 | Front shoulder room mm | 1572 |
2023 Acura MDX vs 2023 Honda Pilot
Although Acura is a segment of Honda, it focuses solely on the luxury segment. So, for example, the Honda Pilot can be put under the luxury segment and give its cousin, the 2023 Acura MDX, a run. If you're conflicted about which of these to choose, we'll make it easier for you.
Interior & Exterior Styling Comparison

The MDX and Pilot are similar in terms of their comfort features. Both are roomy and focused on delivering a comfortable, smooth ride. In addition, both feature climate control, heated front seats, heated steering wheel, driver adjustable lumbar, multi-zone and rear air conditioning, power windows, keyless entry, power door locks, keyless start, and power driver and passenger seat.
Safety Features Comparison
Regarding safety features, both SUVs have six airbags, traction control, disc brakes, stability control, ABS, and child safety locks. They also feature a backup camera, brake assist, blind spot monitoring, lane departure warning, lane keeping assist, cross-traffic alert, tire pressure monitoring, and adaptive cruise control.
Technology Features Comparison
These SUVs have smart device integration, Bluetooth connectivity, Apple CarPlay, and Android Auto.
Conclusion
As you can see, Honda and Acura focus on delivering power-packed vehicles that are convenient, comfortable, stylish, and reliable. While it's not an easy choice, minor differences between each of these vehicles could be the deciding factor when choosing one.
Contact Our Team